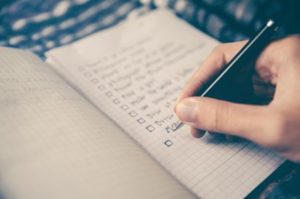 A checklist is a reminder and a thought-provoker. Writing something down not only relieves you of the worry of forgetting an important item, it also helps you think about how to make your presentation the best it can be. I've also used my pre-event checklist when speaking with clients to make sure I've clarified everything I need. It only takes a few minutes to pull together, but in the end, it's worth it. Feel free to use this pre-event checklist as a starting point for yours, which will undoubtedly be different based on what you do:
Andrea's Handy Pre-Event Checklist
Script, notes
Handouts, copies
Introduction
Power point
Thumb drive
Computer, power cord, MAC compatibility cord, remote
Gallery walk flip chart pages, tape
Flip chart and stand, markers
Post it notes
Hats
Creativity cards
Index cards
Pipe cleaners
Candy
Speech props
Music, speaker
Clock
Business cards, holder
Books, bookmarks, book stands
Receipts, change, basket
Game materials – emotions, charades
Room set up – check out
Table up front, lectern
Duct tape, batteries, extension cord
Music stand
Newsletter sign up sheet
List of attendees
Press release/announcement
Invoice – paid or pro bono
Name tags, place tags
Personal items bag
Snacks, water
I remember walking into my first voice teacher's house, my arms laden with sheet music, my purse slung awkwardly across my shoulder, and my hand barely holding on to an ice tea from McDonalds. Charles took one look at me and said, "My grandma calls that a lazy man's load." Ah, yes.  Point taken. At my next lesson, I had all my music neatly arranged in a bag and hands free.
Avoiding the shortcuts and taking time to prepare can prevent a load of trouble on the other end. Using a checklist helps. I'd love to support you. You can reach me at andrea@andreabeaulieu.com.