Are you a professional woman raring to speak for your industry, within your organization, or as a professional speaker? Have you reached a point in your career where you know you have expertise and wisdom that could benefit others and you'd love to share it? Now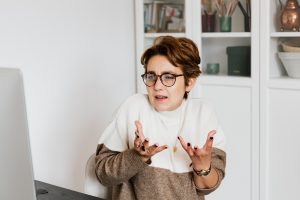 that the world is starting to open up again, are you thinking, now's the time to bring my speaking chops up to speed and get out there?
I've worked with numerous women who have taken that step to become visible and get their voices out into the world. Each one wanted to bring more meaning and purpose into their lives by sharing the power of their message as a speaker. They wanted to take clear-minded action to putthat desire into motion. Their challenge was this: they didn't know how to express their personal authenticity while sharing their information, and that was important to them. They didn't know how to speak from their authentic voice and be heard. That's how I came into their picture.
Your authentic voice is your truth imbued with your own individual way of expressing it — your energy, strengths and gifts. It's you being you, on purpose.
The challenge for many of us is somewhere along the way we learned to question or doubt ourselves, and even dismiss our own individual form of expression. We believed the voices of fear that live in our survival brain, and sometimes come to us from others (even those who are well meaning), that warn us against becoming more visible or taking a risk. We believed those voices that limit us.
Here's the good news — you don't have to believe those voices! They aren't telling you the truth, and you can choose to share your message from your authentic voice and experience the fulfillment and freedom that come with that.
As a speaking, story performance and presentation skills coach and trainer, I support my clients to find and speak from their authentic voice and be heard. I've even written a couple of books about that.
Speaking from your authentic voice looks like this:
• Your words and nonverbal communication match. Have you ever watched a speaker talk about being excited about her subject, but she's frowning and her voice is monotone? Did you believe her? No! Her words and her nonverbals did not match. Whenever there is incongruence between our words and nonverbal communication, the nonverbals win. To be believable, trustworthy and credible, your words and nonverbals need to be congruent.
• You come from the positive energy of your sage brain, not the fear energy of your survival brain. Your sage is the part of your brain where all of your positive emotions live, like joy, empathy, and passion. When you are in this energy, you create a connection with your audience that is engaging and energizing, not draining or boring. You know what it's like to be in the presence of someone who feels good to be around – it's elevating. That person is coming from their sage brain and that is where you want to be when you speak.
• You bring the power of your "presence" to your audiences through your individual energy, strengths and gifts. This is what will set you apart from every other speaker. This is what "charisma" is all about. Charisma isn't something that just some people have. Everyone has the potential to be charismatic, including you! Charisma is born from being completely present with your audience, from sharing your unique energy and gifts, and from being willing to be vulnerable at times. It's you being your authentic self, on purpose. When you do, audiences love it! Plus, it's one of the most freeing things you can experience.
You can find and speak from your authentic voice and be heard. You can embrace your presence and connect with your audience in powerful and exciting ways. You can become that irresistible force for your cause.
You can do this!
If sharing your message as a speaker is how you want to bring more purpose and meaning into your life, I can coach you to engage your presence, craft your message and deal with any challenges from nervousness or stage fright. You'll love learning how to intercept those mental saboteurs and shift into your sage brain so you express your authentic voice powerfully in your world. You'll love being your authentic self, on purpose!
To learn more, visit my website at AndreaBeaulieu.com. While there, you can sign up to receive articles and videos like this. Or if you're ready to take action, contact me at Andrea@AndreaBeaulieu.com to schedule a complimentary discovery session. I'd love to support you!